Reflections On Half A Year of Spanish
It's been one hundered and eighty days since I started learning Spanish. That's about half a year(Yay!).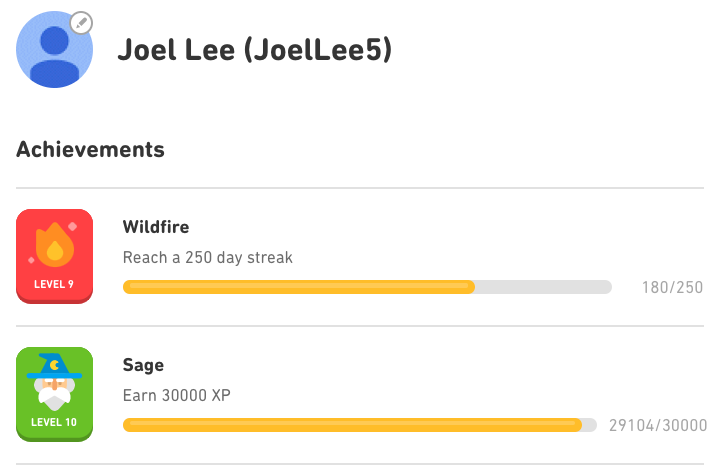 As such, I thought it'd be a good time to conduct a review and make a first post on this blog. I'll outline my considerations and what services/tools I used to aid my learning.
Motivation
This post is largely inspired by a similar post by about learning French which I read on Hacker News last year.
I came into university wanting to learn a new language but didn't quite have the bandwidth to commit to six or so additional modules required under the language program at NUS. I tried picking up Hindi during my second semester of university but didn't carry on after that semester due to heavy workload and an internship. After returning from the bay, I realized that I had ended my undergraduate education without fulfilling my initial goal. As such, I decided to pick up a language on my own via online classes.
Why Spanish?
I figured it would be a useful language to learn given that there was a chance that I'd head back to the bay area. I had a run-in with a drunk person last December that convinced me Spanish had its uses. I shall not elaborate further about that misadventure but you can ask me in person.
Past Experiences
I had no experience with Spanish apart from what little I learned by travelling around Spain. I also spent a while backpacking around Italy and that helped with Spanish because certain words(like numbers) have similar sounds in both languages. I'd also bought a copy of The Ultimate Spanish Review and Practice from a bookshop in Mountain View after the run-in mentioned above. The book contained summaries of most possible Grammar rules which made it a great reference whenever I was stuck.
Learning Timeline
5 May 2020 – Start Duolingo Spanish Track, Lingoda Super Sprint
7 July 2020 – Complete Lingoda Super Sprint challenge
7 August 2020 – Receive notice of Completion of Lingoda Super Sprint Challlenge
17 September 2020 – Start Spanish lessons with SpanishVIP
My daily schedule involved about 60-90 minutes of Duolingo around 7am-8am in the morning. I also completed the Lingoda Super Sprint Challenge over a period of three months. This was about an hour of work a day for three months, mostly at night. I would occasionally also do exercises from The Ultimate Spanish Review Guide*
Evaluation of my current level
I would place myself around A2 and just below B1. I can sustain a Spanish conversation and recognize most Spanish words. However, I make quite a few grammatical errors especially when it comes to topics related to the subjunctive. As such, I hesitate to bump myself to B1.
Duolingo
I binged Duolingo stories; they're cute, funny, and occasionally loaded with innuendoes. Here's an example outline of a story:
Junior(Eddy's son) discovers whips in father's bedroom closet and proceeds to ask his father if he'd switched jobs to become a lion trainer.
Beyond Stories, the daily skill exercises have also been useful in helping me progress. As per, Wes's suggestion on Duolingo, I turned off the word suggestions and typed out the words without autosuggested words. This can get bothersome when you cross level five due but for the first few levels I found that typing out the sentences greatly aided my retention.
For levels, I subscribe to the concept of laddering – getting multiple skills to tier one rather than getting individual skills to level five. On Duolingo, skills decay if you bring them to level five so I didn't want to be perpetually reviewing lessons as that would make it hard to maintain. As such, I aimed to get to level one on all skills before attempting to max out any one skill.
Lingoda
I also took part in the Lingoda Super Sprint Challenge over the Summer break. As part of the challenge, you'd get three months of free lessons if you attended a lesson a day for a period of three consecutive months. The flipside was that you'd have to pay for three months of lessons if you missed a single day. The teachers were professional and the crowd was interesting: I met a French Professor, a Software Engineer, and a Sailing school trainer all in the same class.
For the challenge, I opted to do only lessons labelled as Skills or Grammar as I didn't think I'd get as much out of the vocabulary lessons given that I was already using an Anki deck for vocabulary.
Overall, great experience. I'd strongly recommend to anyone else who has discipline and the time to commit.
SpanishVIP
Tried this service after browsing around on Reddit. Subsequently sent in an email and decided to enroll. Lessons were varied and consisted of a mix of videos, articles, and grammar exercises. So far so good, lessons included Latin American folk tales about the origins of corn and shows like El Chapo(Not to be confused with the druglord).
ITalki
ITalki was another popular language learning recommendation that I received. I tried ITalki for a while but the cost soon became prohibitive. I'd initially thought that the cost was $15 USD/lesson but I later realized that that was only the cost for half a lesson. $30 USD/lesson was way too steep for me to afford so I stuck to the existing platforms that I was using.
Resources
Here are some resources which I liked:
Books/Stories
El caballero de la armadura oxidada
La llorena
Movies/TV Series
Guillarmo del Torro's El Labrintho del Fauno
La Casa de Papel(Money Heist)
Learning Spanish was also a great excuse to watch children's shows on Youtube. In particular, I enjoyed:
Barrio Sesamo(Sesame Street)/El Mundo de Elmo (Elmo's world).
Peppa Pig En Español.
Compared to other material it was digestible and I was able to watch it largely without subtitles.
Music/Podcasts
The Duolingo podcast is decent
Generic playlist: Latest Latin American Hits 2020
Buuyuchek
Other Mediums
I also set my phone's default language to Spanish. This can be slow at first but there are learning gains once you get accustomed to using the phone in Spanish.
What's next
I want to spend more time reading books. I'm hoping to take a DELE B2 Exam as a verification check of my knowledge(hopefully before February).
Cost Thus Far
Lingoda Super Sprint: Refunded.
Three sets of twenty lessons: $199 * 3 = $597
SpanishVIP: $499
Ultimate Spanish Review and Practice: $20
El Labrinto del Fauno : $3 (I bought this for entertainment so I'm not sure if I Should count this)
ITalki trial lesson : $5
Total: $1125 USD
I think the cost thus far is decent. Especially considering that I've still ~40 lessons on Lingoda and >100 lessons on SpanishVIP remaining.